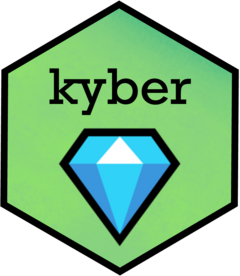 kyber
Installation
You can install Kyber using the remotes package:



remotes

::

install_github

(

"openscapes/kyber@main"

)
Quick Cohort Setup
Configuration
Using Kyber requires more configuration than most R packages since Kyber functions automate processes on GitHub that you would normally do by hand.
First, make sure that you have googlesheets4 installed and that you have authorized your computer to read from Google Sheets. Run the following to test your configuration settings:

library

(

googlesheets4

)





cohort_registry_url

 

<-

 

"https://docs.google.com/spreadsheets/d/1Ys9KiTXXmZ_laBoCV2QWEm7AcnGSVQaXvm2xpi4XTSc/"



read_sheet

(

cohort_registry_url

, sheet 

=

 

"test-sheet"

)
Example Workflow
This workflow often happens in 4 separate stages:
create the repo and readme (pre-cohort)
create github-clinic files (days before GitHub Clinic in Call 2)
create github team and add usernames (day before Clinic, when we have all usernames)
create agenda documents before each Cohort Call
For creating the GitHub Team and adding usernames, Kyber requires you to set up a GitHub Personal Access Token with scopes for repo and admin:org. See the GitHub PAT documentation for more information about how to generate your PAT. You can create your PAT with usethis::create_github_token() with their defaults, plus admin:org. Please make sure that you do not share your PAT or commit it to a Git repository, since anyone with your PAT can act as you on GitHub.
R package developer notes
Steps to edit kyber locally and review those edits:
In RStudio, open kyber project, pull main branch
If you've been working in RStudio, restart your R session.
Make edits to files (for example inst/agendas/team_culture.Rmd)
In R console: devtools::load_all() to load local edits for kyber
In R console, test whatever you edited. For example, to create the call agenda:
kyber

::

call_agenda

(


    registry_url 

=

 

"https://docs.google.com/spreadsheets/d/1Ys9KiTXXmZ_laBoCV2QWEm7AcnGSVQaXvm2xpi4XTSc/edit#gid=942365997"

, 
    cohort_id 

=

 

"2022-noaa-afsc-fall"

, 
    call_number 

=

 

4

)
To review the call agenda, open agenda.md, click Preview, and view it in the Viewer Tab.
Usually you can repeat steps 3-5 whenever you make edits you want to review, however if there are problems try restarting you R session.